Use your FULL EMAIL as Username
Subscription Plans
Forklift operators of sit-down and stand-up counterbalanced forklifts, or electric pallet jack type lifts can get a forklift license (operator certification) in about an hour. This online class is designed to review standard forklfit safety, and operational use. This class can be taken by new and experienced operators to satisfy the OSHA formal training requirement. Once the class is complete, students must still be evaluated by their employer to fully satisfy the OSHA guideline.
The license is good for 3 years (based on OSHA guideline) and is good for 3 types of lifts (sit-down, stand-up Counterbalanced and electric pallet jack.
| | |
| --- | --- |
| Duration: | 3 Years |
| Price: | $59.95 |
This class is for IATSE operators of either powered industrial trucks (forklifts) or mobile elevating work platforms (MEWP/aerial lifts). If your local has a coupon code enter it in for your discount, if they don't we are open to setting up discount arrangements with any local in the country.
The new ANSI Standards for aerial lifts, is A92.22 & A92.24. They are now called Mobile Elevating Work Platforms or MEWP and affect all types of aerial work platforms, even those that had not previously been part of an aerial standard like forklift man-baskets and scissor lifts.These standards are currenty in effect and will be subject to OSHA fines shortly. This training class provides the operator training materials for all MEWP equipment and is the formal training portion of the certification requirement. This class comes with access to the occupant training system to help operators train occupants.
Operators will still need to be evaluated on the lift they are going to operate at the job site or facility, but this class will provide the training documentation and an operator license (both digital and plastic).
| | |
| --- | --- |
| Duration: | 3 Years |
| Price: | $59.99 |
Under the new MEWP (Mobile Elevating Work Platform) ANSI guidelines, occupants also known as passengers must have familiarization training and be shown and know how to lower a lift in an emergency if the operator cannot. This class should take about 30 to 45 minutes and will print a certifiate of completion after the test is completed.
Occupants should only have to take this class one time, but may need to be shown the emergency lowering procedures on each different lift type if they are going to ride in different lifts. The training will review basic information about lift safety, fall protection and emergency response options. There is also access to generic job hazard analysis documents (safety plan) and rescue plan documents as per the new standard.
| | |
| --- | --- |
| Duration: | 90 Days |
| Price: | $9.99 |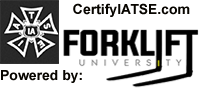 Welcome to the IATSE computer based re-certification training site. This web site has re-certification classes for general forklift safety, aerial lift safety (now called MEWP, Mobile Elevating Work Platforms).
Operators can sign up for 1 or multiple classes that will renew your license for an additional 3 years. If your local has a discount agreement with Forklift University, you can use your coupon code to receive the agreed upon discount. If your local does not have an agreement, please have leadership contact us directly to setup a progam for your local.
---
Buy multiple classes and receive the combination class discount:
Subscription Plans
Forklift & Aerial for IATSE
For those that wish to order both the forklift and the MEWP (Aerial) classes at the same time, this plan includes access to both the full forklift operator training class and the full operator MEWP (aerial lift) training class.
The classes are the same, this plan option just makes it easier to sign up for both classes at the same time. The discount code from your local will apply here and provide you with the combined discount. If you sign up for 1 class and wish to add a second and you have not used this option, please login and go to your profile, there is an option at the bottom of the page that allows you to add the additional class at the same discounted rate if you use your local union coupon code.
A the end of each class, you can print a temporary license that will provide certification until your hard plastic license arrives by mail. This card will have your photo and the information required to show you have completed the required training.
Since MEWP's (aerial lifts) guidelines have changed, there are additional classes available on the site. With your operator class, you have access to the occupant class so you can make sure that occupants are properly trained as required by the new guideline.
Each class will take between 60 and 90 minutes to complete and can be taken on any device that is convenient for you, including mobile phones.
Note: For those that have training time left on their current card, the MEWP update class will provide updated training to comply with the new ANSI guideline information and will be valid until your current license expires.
Forklift License Included